Self-Harm Network Scotland provides compassionate support, resources, and information to people who self-harm. We also provide support and information to friends, families and professionals. 
We are part of Penumbra Mental Health, a pioneering charity providing dedicated services for people with mental ill health. We support people on their journey to better mental health, by working with each person to find their own way forward. We are funded by the Scottish Government and also work with partner agencies who share our goal of minimising distress and reducing self-harm.
Cha
I'm Cha and I'm a Peer Practitioner at Penumbra. I have a background working in the Justice system and the NHS. I have lived experience of having and living with a mental health disorder and have many years' experience of supporting people through recovery at very tough stages of life. When I'm not working, you'll most likely find me in the gym, at a gig, or out running or cycling which is part of my wellness in recovery.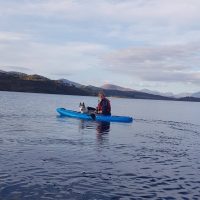 Shona
I'm Shona and I'm a Peer Practitioner at Penumbra. I have lived experience of self-harm and was supported by Penumbra at the age of 16. After college, I backpacked on my own around the world and became an archery instructor in Canada. This experience made me realise I wanted to help and support others. In 2021, I started working for the very service that supported me! I have a beautiful dog that I love walking in the Cairngorms. I also love anime and video games.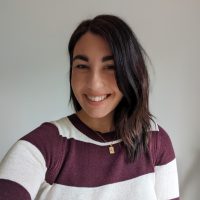 Nic
I am a Muma of two super cool humans and two adorable doggos. I love supporting others in getting to understand the 'why' beneath their struggles and help to give them the self-belief that starting their own recovery journey is possible. In my spare time I love doing/trying lots of different hobbies like Aerial hoop, pushing weights, dancing, jujitsu, pole fit, walking and singing at the top of my lungs in the kitchen to Alexa (my family really loves that). Looking forward to supporting you.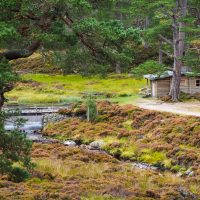 Laura
A once-upon-a-time Youth Worker, inspired to become a Peer Practitioner following my own experience of poor mental health & self-harm. I'm passionate about supporting people to make sense of their own experience and to find hope that things can and do change for the better. Outside of work, you'll most likely find me paddle-boarding, Geocaching in the countryside, attending live music events, or curled up on the sofa with a good book. The picture is taken in Ballochbuie Forest, on one of my all-time favourite walking routes.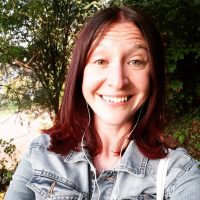 Tina
I'm Communications Lead for Penumbra's Self-Harm Network Scotland service. I'm passionate about making a positive difference to people's lives, and am proud to work as part of a warm, supportive team. I love to meet new people and think that we can all learn so much from one another's unique experiences – and grow as people. I enjoy exploring Scotland's great outdoors, love running, spending time with friends, family and my cat, going to gigs (particularly being at the front!), reading and writing.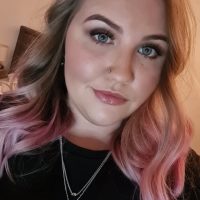 Louise
I'm outgoing and caring and I love meeting new people. I'm passionate about learning new things, and I'm really interested in how the human brain works and how we can share knowledge to help people live their best lives. In my spare time I love reading fantasy novels, watching Marvel films and snuggling with my dog, Dora. I love collecting crystals and I'm also obsessed with dinosaurs.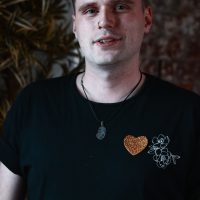 Darren
I'm extremely passionate about working to support people who are in distress to better understand the issues they are facing and give them tools to help them support themselves and live well. I love music and going to gigs – though my music taste hasn't developed since about 2010 and I'm still a massive fan of pop punk. I love travelling, socialising and meeting new people from different walks of life. In my spare time I volunteer for drugs harm reduction and LGBT+ organisations.
Of course, everyone's journey is different, so we work with people to identify, believe in, and reach their goals, whatever they may be.
Often, it's about hope, but we know that's not always easy for people to hold on to. And so, when times are tough, we hold it for each person, keeping it safe – just until the time is right.
You see, Penumbra has always been about people; listening and learning, challenging, encouraging and enabling . It's why we're trusted to provide services across Scotland, supporting thousands of adults and young people every month, because when people need us, we're there.
Was this content helpful?
Thank you for letting us know!
Your feedback matters to us, if you have any other comments please let us know.